The Horizontal Gaze Nystagmus Test ("HGN Field Sobriety Test") is one of the three standardized field sobriety tests promulgated by the National Highway Traffic Safety Administration ("NHTSA") of the Department of Transportation.  The HGN field sobriety test measures nystagmus, an involuntary jerking of the eye that occurs as a result of certain conditions, including impairment as a result of alcohol and drug consumption.
How Does the HGN Field Sobriety Test Work?
The test has three parts.  First, the officer holds a pen approximately a foot from the suspect's face and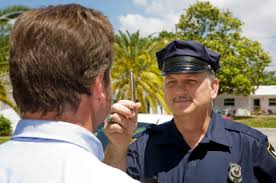 moves the pen from the center of the face to the left or right ear.  In this portion of the test, the officer is looking for whether there is a 'lack of smooth pursuit' of the eye as it tracks the moving pen.  If the eye can not follow the pen smoothly, but instead stops and jerks to catch up to the pen, the officer will take this as an indication that the suspect is impaired as a result of alcohol or drug consumption.  Second, the officer will hold the pen at 'maximum deviation' and look for a jerking of the eye.  The officer will hold the pen at that maximum deviation for at least 4 seconds to check for a 'distinct nystagmus' or jerking of the eye.  Third, the officer will check to see if there is an onset of nystagmus prior to a 45 degree angle as the pen is moved from the center of the face to the left or right side of the face.
In order to admit the HGN test as evidence, the Commonwealth must establish a basis for the scientific reliability of the test.  In order to accomplish this, the Commonwealth must typically qualify the officer who administered the test as an expert in the HGN or field sobriety tests as a whole, which can be difficult depending on the officer's familiarity with the scientific underpinning of the HGN test.  While it can often be difficult for the prosecutor to get the HGN test admitted into evidence, if that hurdle is met the test is often considered the most reliable field sobriety test because it does not take into account the suspect's ability to perform a physical task that requires balance such as the walk and turn test or the one leg stand test which could vary widely from person to person regardless of alcohol or drug consumption.
The attorneys are Henson Pachuta, PLLC are experienced with DUI defense and offer free consultations.  With information about the details of your case, we can help to explain the challenges you can make to the HGN test.  Contact us by phone at 703-822-4701 or come to our office at 4011 Chain Bridge Road, Suite 200, Fairfax, Virginia 22030.