Fairfax field sobriety tests are administered or offered in almost every case of driving while intoxicated so long as the suspect appears physically capable to the investigating officer.  The tests serve two purposes.  First, the officer will use the field sobriety tests to make the initial determination whether a suspect should be investigated further and whether the suspect should be arrested for driving while intoxicated.  Second, the suspects performance on the Fairfax field sobriety tests will be used at trial by the prosecutor in order to support a finding of guilt.
There are many ways to challenge the field sobriety tests.  First, many of the tests were developed under standardized laboratory conditions.  There is a great difference between a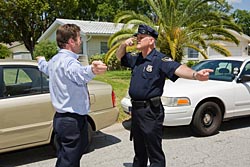 well lit office space and the side of the road with cars speeding past and the blinding emergency lights of a police car.  Second, there are typically a good number of 'indicators' of intoxication that an officer is looking for in each tests.  If the officer does not testify or make a note that a suspect did not perform a certain part of the test correctly, it is a safe bet that the suspect did that part of the test perfectly.  An experienced attorney can effectively bring this type of information out a trial to raise doubts as to the efficacy of the field sobriety tests.
What are Common Fairfax Field Sobriety Tests?
There are a number field sobriety tests that officer in the Northern Virginia area typically administer to suspected drunk drivers.  Some of those tests are:
The attorneys at Henson Pachuta, PLLC are experienced with DUI defense and offer free consultations.  With information about the details of your case, we can help to explain the challenges you can make to the field sobriety tests.  Contact us by phone at 703-822-4701 or come to our office at 4011 Chain Bridge Road, Suite 200, Fairfax, Virginia 22030.