Fairfax DUI investigation can start in a number of ways.  A driver might be stopped for an unrelated traffic offense like speeding or running a stop sign, and after the stop something peaks the officers interest and a Fairfax DUI investigation begins.  An officer might also observe driving behavior that is of itself legal, but taken together is indicative of DUI.  Or a driver might be so unfortunate as to drive through a sobriety checkpoint.  At times, a driving while intoxicated investigation begins even though the officer had no legitimate reason to stop a driver.
Driving Behavior in Fairfax DUI Investigation
Drivers are sometimes pulled over on suspicion of DUI because of a driving pattern indicative of driving while intoxicated, such as weaving within a lane, driving too slowly, or rapidly breaking.  More often, the initial stop of the vehicle will be for behavior that has no bearing whatsoever on intoxication, such as speeding.  Especially late at night or in the early morning hours, officers are usually on the lookout for drivers who may have been drinking, and will pay careful attention to a driver's smell and behavior or will simply ask the driver where they are coming from and whether they have had anything to drink.
Anonymous Tips resulting in Fairfax DUI Investigation
While not as common, at times police will receive a tip from another citizen that a car on the road appears to be driven by someone who is intoxicated and a Fairfax DUI investigation will be initiated over dispatch.  When an anonymous tip is involved, the officer must typically observe some independent driving behavior to justify the stop, and can not rely solely on the tip alone to pull a vehicle over.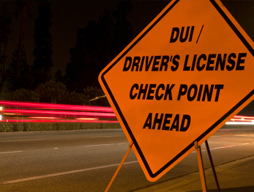 DUI Checkpoints
DWI sobriety checkpoints are used by officers in Fairfax, Virginia to stop vehicles for a number of offenses, including drunk driving.  In order for the stop to be valid, the government must show that the plan for the checkpoint was designed to avoid selection bias and that the checkpoint was executed in strict accordance to the plan.  Police do not always follow the strict guidelines that govern sobriety checkpoints, and if a DUI is charged from a checkpoint where police did not follow those rules everything gathered after the stop may be excluded.
Once the stop has been conducted, the offer will then gather evidence through a Fairfax DUI investigation that will later be used in an attempt to convict the driver beyond a reasonable doubt.  In order to convict a defendant of DUI/DWI in Fairfax, a prosecutor must prove that the defendant was intoxicated at the time of driving.  The primary tools of investigation a police officer will use to gather evidence are the field sobriety tests and a chemical analysis to determine a suspect's blood alcohol content.  A chemical test could be either a breath sample, a blood sample, or both depending upon the circumstances.
Prosecutors must prove each and every element of driving while intoxicated beyond a reasonable doubt. The attorneys are Henson Pachuta, PLLC are experienced with DUI defense and offer free consultations.  Contact us by phone at 703-822-4701 or come to our office at 4011 Chain Bridge Road, Suite 200, Fairfax, Virginia 22030.