The "nine step walk and turn" or "walk and turn" test is a divided attention field sobriety test that police officers in Northern Virginia frequently give to suspected drunk drivers.  The Fairfax walk and turn test is a divided attention test requiring that a person listen to, remember, and follow instructions while performing a physical task.  In the walk and turn test, the suspect is instructed to walk nine steps along a straight line touching heel to toe.  Typically the subject is directed to walk on an imaginary line as opposed to an actual painted line on the shoulder of the road.  Suspects are asked to take nine steps out, turn on one foot, and then take nine steps back.  Many officers also ask the suspect to count out loud at each step and not to raise his or her arms.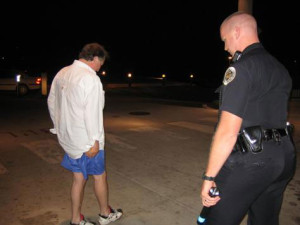 What is the Officer Looking for in the Fairfax Walk and Turn Test?
While each officer will conduct a test with slight variation, officers are trained in the administration of field sobriety tests and for the most part the administration of the walk and turn test is similar between different police officers.  As with most of the field sobriety tests, the walk and turn test has been designed and promulgated by the Department of Transportation National Highway Traffic Safety Administration (NHTSA).  NHTSA instructs officers to look for eight indicators of impairment on the test:
(1) the suspect can not keep balance while listening to the instructions;
(2) the suspect begins the test before the instructions are finished;
(3) the suspect stops while walking to regain balance;
(4) the suspect does not touch heel to toe;
(5) the suspect walks off of the imaginary line;
(6) the suspect uses his or her arms for balance;
(7) the suspect makes an improper turn;
(8) the suspect takes in incorrect number of steps.
The attorneys are Henson Pachuta, PLLC are experienced with DUI defense and offer free consultations.  With information about the details of your case, we can help to explain the challenges you can make to the field sobriety tests.  Contact us by phone at 703-822-4701 or come to our office at 4011 Chain Bridge Road, Suite 200, Fairfax, Virginia 22030.