There are two sides to a driving while intoxicated charge in Fairfax, Virginia.  First, a defendant must face the criminal charge which is handled by the court system.  The second step is the interaction between the Fairfax DUI and the DMV of Virginia. As a result of actions taken by the court and of its own accord, the Virginia DMV will impose a number of restrictions on the driver as well as a number of hurdles in terms of licensing and increased insurance rates.
What can I expect from my Fairfax DUI and the DMV penalties that may result?
At the outset, a Virginia licensed driver who is charged with DUI in Fairfax County can expect an administrative license suspension immediately following arrest.  This amount of time for the administrative license suspension varies depending on the severity of the charge, but regardless of length of the suspension the defendant can under no circumstances drive during that time period. If you have been charged with a Fairfax DUI and the DMV has issued an administrative license suspension, call our office to find out how and when this suspension will end and your license will be returned to you.
Once the administrative license suspension period had ended and the case is pending before the court, the defendant can drive normally and is not under threat of losing driving privileges as a result of a DMV proceeding.  Unlike in some other states, in which there are two simultaneous proceedings, one in the courts and the other before the DMV, Virginia will make only one adjudication regarding the charge. Therefore, the court appearance will determine the result of the Fairfax DUI and the DMV penalty as well.
If a defendant is found not guilty or the driving while intoxicated charge is otherwise dismissed, the Virginia DMV will take no further action and the defendant can go on driving as normal.  If, however, the defendant is found guilty of driving while intoxicated there is a mandatory license suspension and ignition interlock.  A defendant will also be forced to get special, high risk insurance before the DMV will allow any driving privileges, including for a restricted license to drive to work or school. If you have been convicted of a Fairfax DUI and the DMV will not approve a full reinstatement of your license we may be able to help.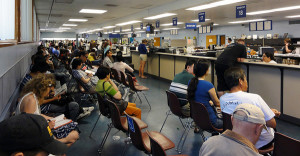 The attorneys are Henson Pachuta, PLLC are experienced with Fairfax DUI and the DMV issues that result and offer free consultations.  With information about the details of your case, we can help to explain the consequences of your charge including those involving your license and Virginia Department of Motor Vehicles.  Contact us by phone at 703-822-4701 or come to our office at 4011 Chain Bridge Road, Suite 200, Fairfax, Virginia 22030.